Mini volcanoes erupt on the beach in Chacala Mexico, located on the Riviera Nayarit, except they're not spitting out LAVA, but LAND CRABS! Seems this is commonplace after the first rainfall of the season, before they grow in population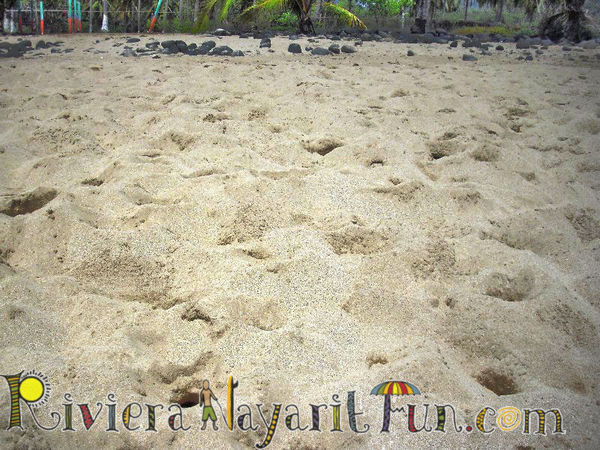 and move inland. Love em or hate em, they are here for a reason and it's not for their delicate edible flavor. In fact, they are not part of a dinner menu by anyone's standards. Actually, it's hard to determine that they have any flesh attached to those spindly claws. Their eyeballs appear to make up most of the picture and you will certainly get the STARE if you scare them, while they rear up at you in defiance. Sounds like something out of a "sci fi" movie? Well, that's how it can seem in you are unfortunate enough to have them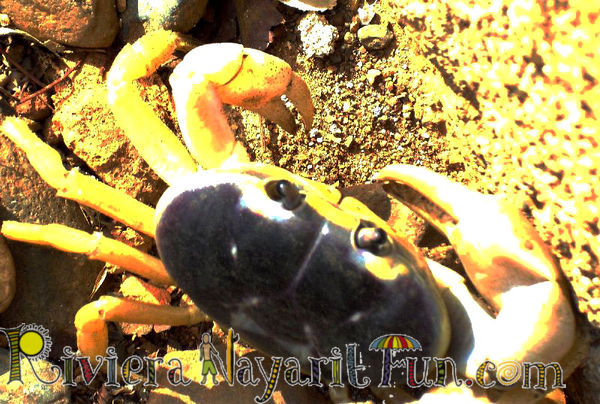 able to crawl into your house and get into everything, like menaces – especially the way they love to travel in packs! Alfred Hitchcock would have had a hay day with this concept.
I do recall on one occasion when a friend of mine was attending an "in town" party and had driven in from his jungle home in Chacala, where the population of land crabs can be in the thousands, making it impossible to drive through without a lot of crab homicide. Upon arrival, he announced that he had brought an appetizer. O good, we all exclaimed. What is it? Well, it's crab dip, but you will have to scrape it from the tires on my car!!! Yuck! Everyone loves a joker! Sounds bad, conservation wise, but truly unavoidable due to the masses that take over the jungle areas nearby the sea.
What are the purpose of these land crabs?
So, I ask myself, "what exactly is their purpose?"  The Chacala locals could not provide me with answers, Google didn't prove much, there just HAS to be some reason these guys come to visit every year. Being the curious sort, I continued my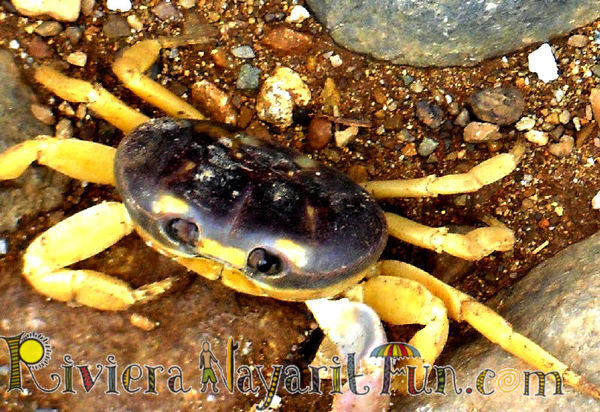 search until I finally came up with the answer. It makes sense!! They really do make up part of the whole system and we need to respect their role.
So, think about this…they only inhabit tropical jungle areas and only come out during the wet season and leave (hibernate) in the dry.  Can you guess what their purpose is?
Please supply your answers under comments.  Back to you next week!
For a great place to stay in Chacala Mexico visit www.nayarit4fun.com and check out the Chacala Hostel and Surf Shop! Its a nice place, clean and affordable with wonderful hosts Mike and Lindy to hang out with upstairs in the lounge and enjoy a beer or other tasty beverage!
Come to Chacala Mexico on the Riviera Nayarit for a great vacation, move to Mexico for Life!
Please supply your answers under comments.  Back to you next week!